____________________________________________________________________
MARCH 13,2020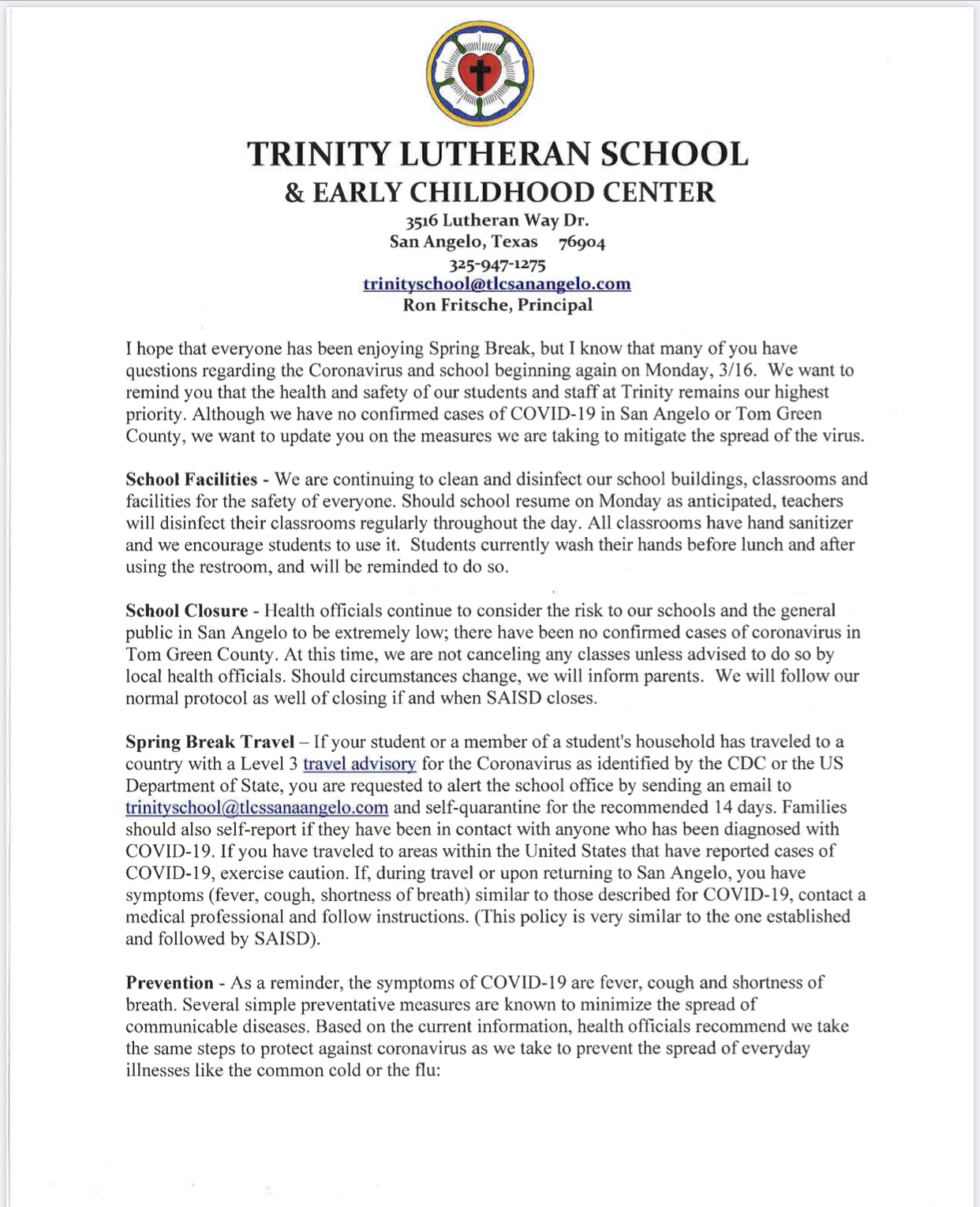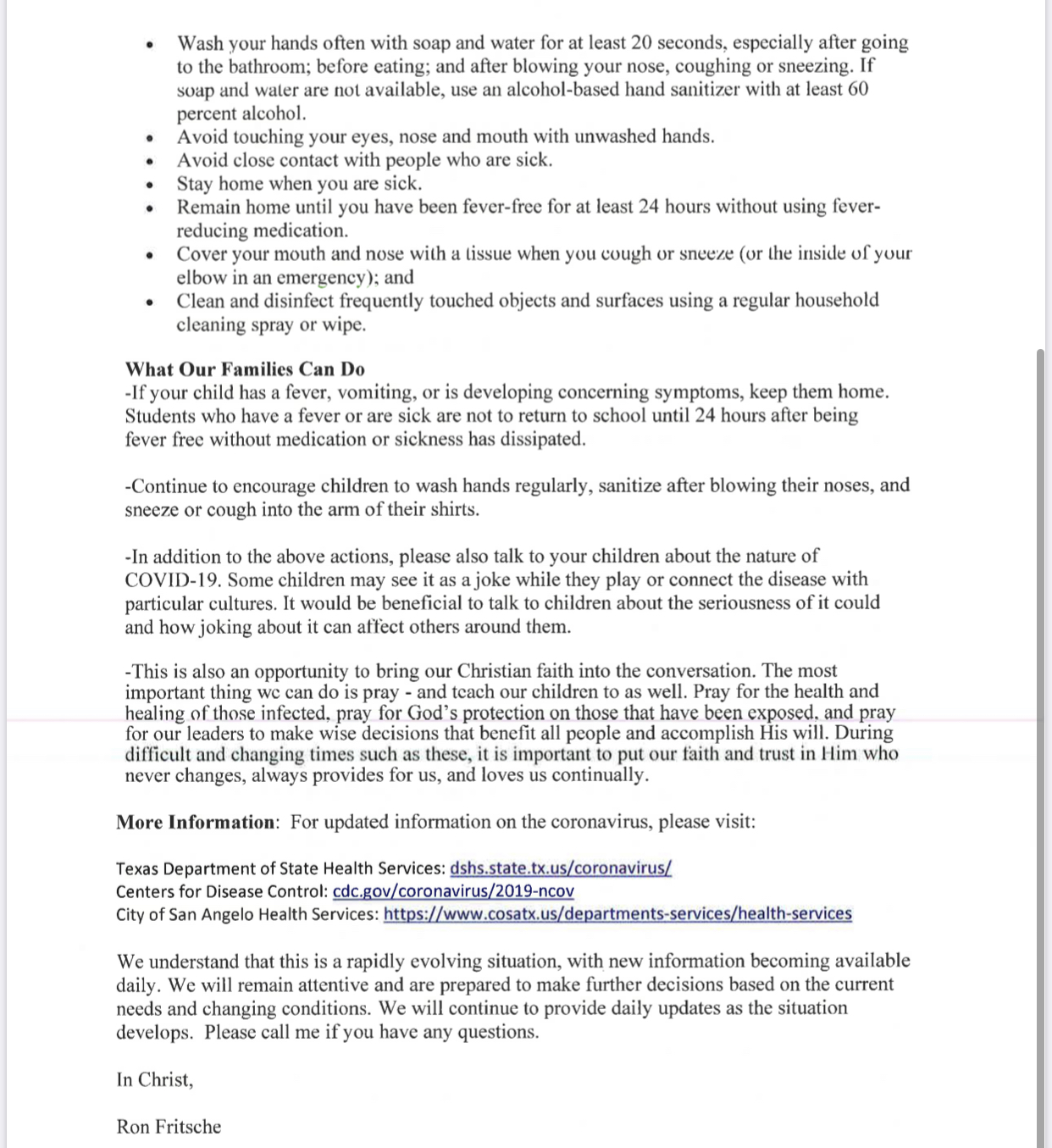 ___________________________________________________________________
UPDATED: MARCH 14,2020
3/14/2020
In an effort to minimize the spread of the Coronavirus and to protect our school families and employees, Trinity has decided to follow the lead of SAISD and close the school and ECC next week. We will continue to evaluate the situation and if something changes, you will be notified. Parents and Students in grades K-12 will be contacted regarding home based remote learning during this period.
If you have any questions or concerns feel free to email us at : [email protected]
___________________________________________________________________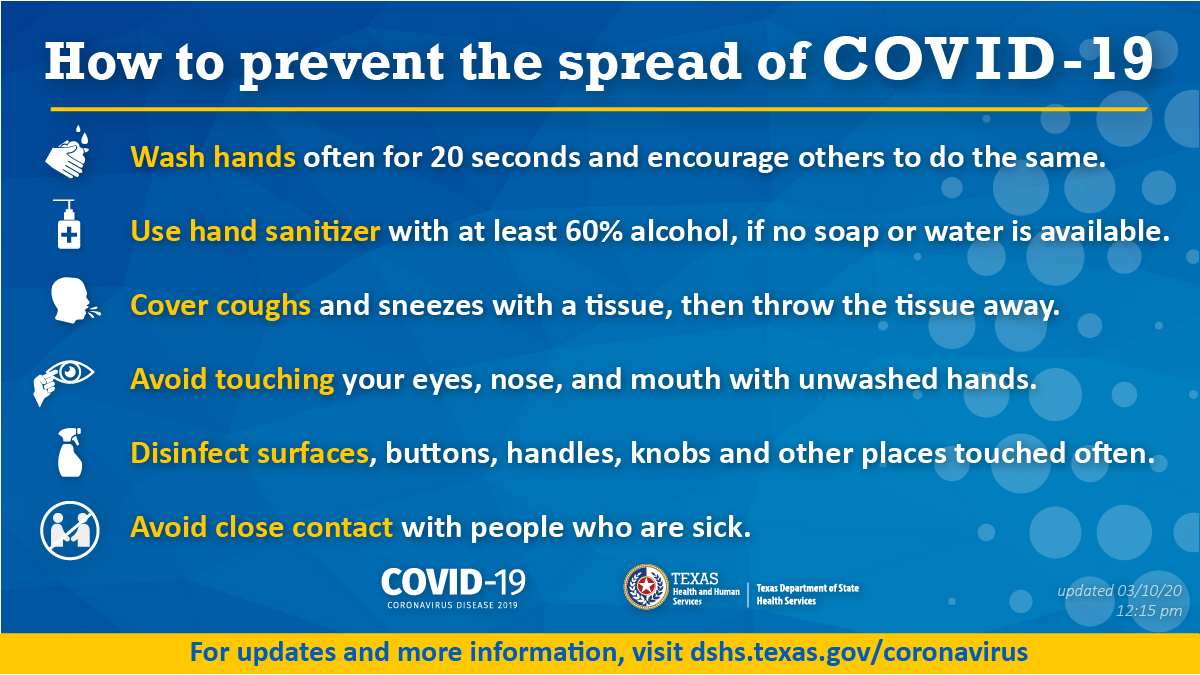 UPDATE : MARCH 17,2020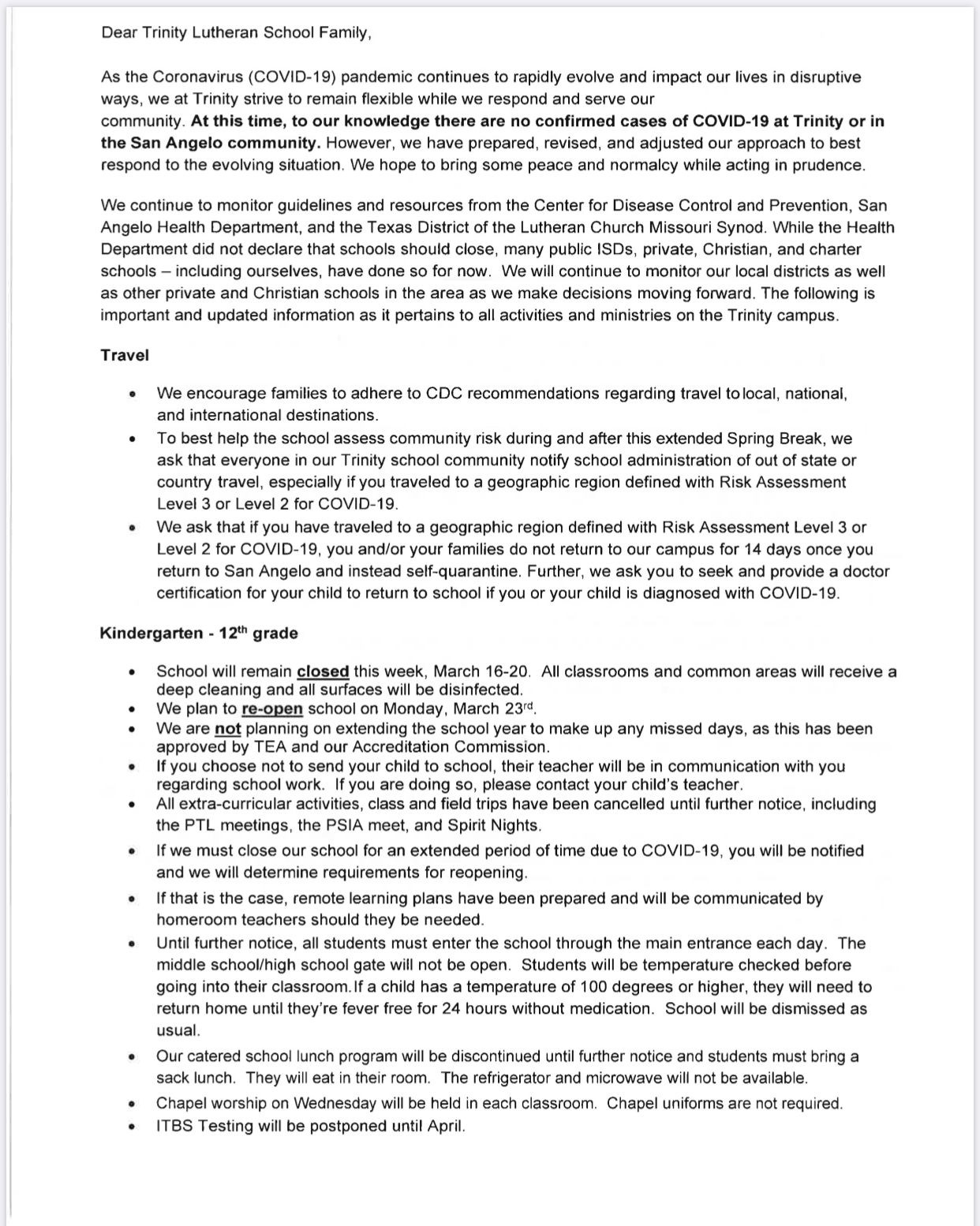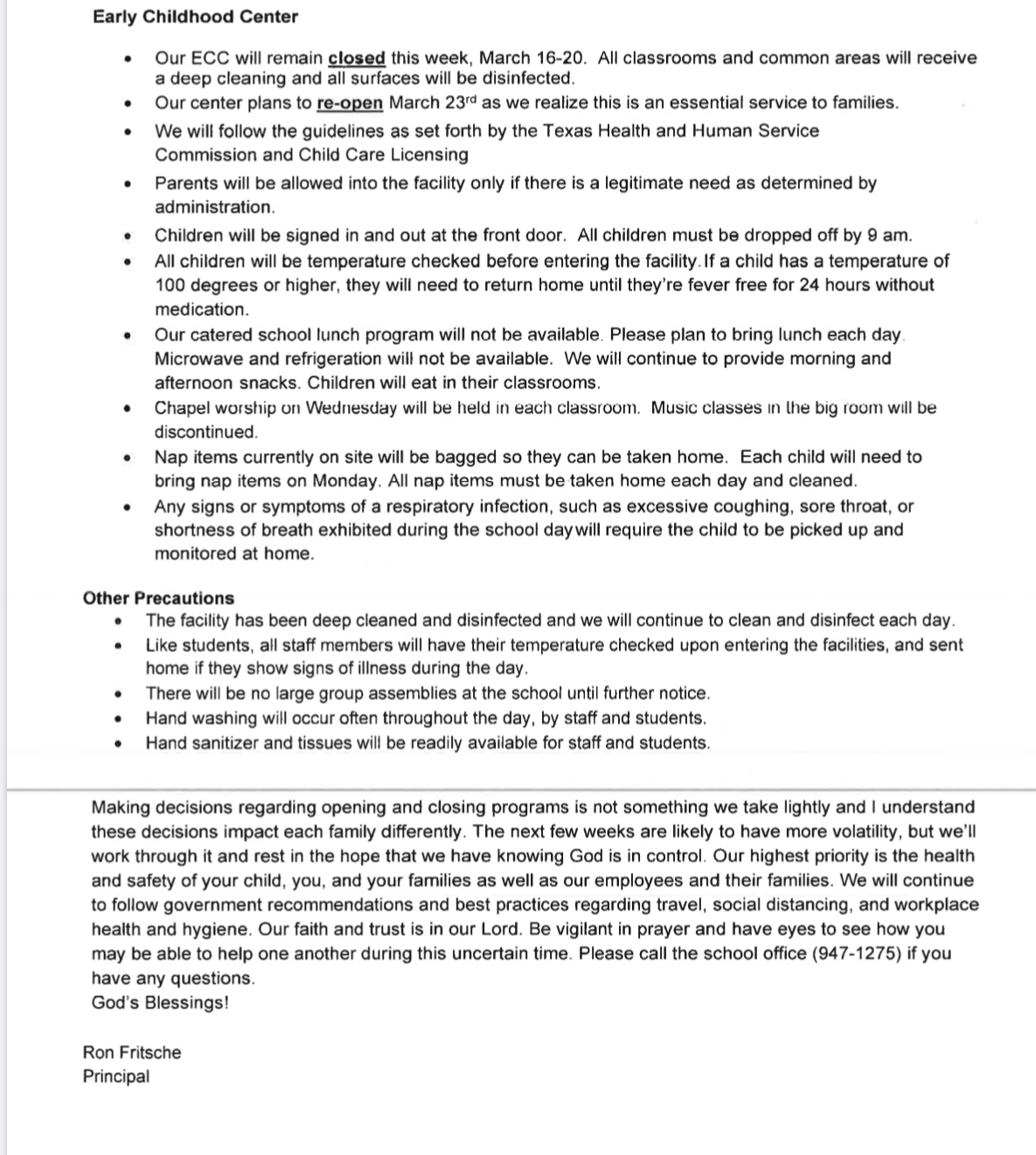 UPDATE : March 20,2020
Dear Parents,
As you may know, the Governor of Texas mandated the closure of all K-12 Texas Schools. This includes our K-12 Program here at Trinity. We will continue to provide instruction and lessons to each student online. Your child's teacher will be in touch with you shortly on how to access this information.
Our ECC is a licensed child care facility and is considered to provide essential services to the community, especially to those that are health care workers, and first responders. Therefore, we will open at 6:30am on Monday morning, for any enrolled child in need of care, following all the precautions & procedures required by Texas Health & Human Services Commission.
We have been limited by an emergency order by the Mayor of San Angelo to only 9 children per room. If you are in need of child care please call us or respond to your email that was sent IMMEDIATELY to reserve your child's spot, (please note: health care workers and first responders take precedence). We will continue to monitor the situation and will notify you of any changes. Feel free to call with any questions.
Mr. Fritsche, Principal
UPDATE : March 20,2020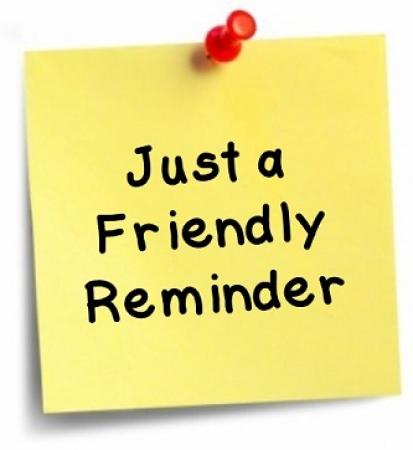 For those of you who are signed up for child care Monday morning.
Here are a few reminders so that this process goes smoothly:

- Center opens at 6:30am, but you MUST be here by 9am.

-All children's temperatures will be taken before entering each day.

- A Travel Reporting Form must be filling out on MONDAY at the door.

- Remember to bring a change of clothes in a baggie with your child's name on it.

- Remember to bring a sack lunch(that requires no microwaving or refrigeration).

We continue to pray for our community and your family.

UPDATE: MARCH 22,2020
PARENTS:
In an effort to create some continuity for your child regarding educational objectives here at Trinity, the preschool teachers have developed some activities you can do at home with your child. They are located on our school website at: http://www.trinityschoolsa.com/preschool-curriculum
or if you go to http://www.trinityschoolsa.com home page there is a link titled PK CURRICULUM.
These are the same or very similar to many of the activities we would normally do. Select your age group. A normal daily schedule is attached (just for your information) along with some paper activities ( if you would like to print), interactive activities, and some online opportunities (under the Online Learning Resources tab http://www.trinityschoolsa.com/online-learning-resources ). If you have any questions, please contact the ECC office.
Our prayers are with you all. Stay safe. God Bless!
ATTENTION:
FOR PARENTS WHO WILL DROPPING OFF CHILDREN ON MONDAY MORNING. PLEASE FILL OUT THE TRAVEL REPORTING FORM ( LINKED BELOW) TO SPEED UP THE MORNING PROCEDURE.
THANK YOU!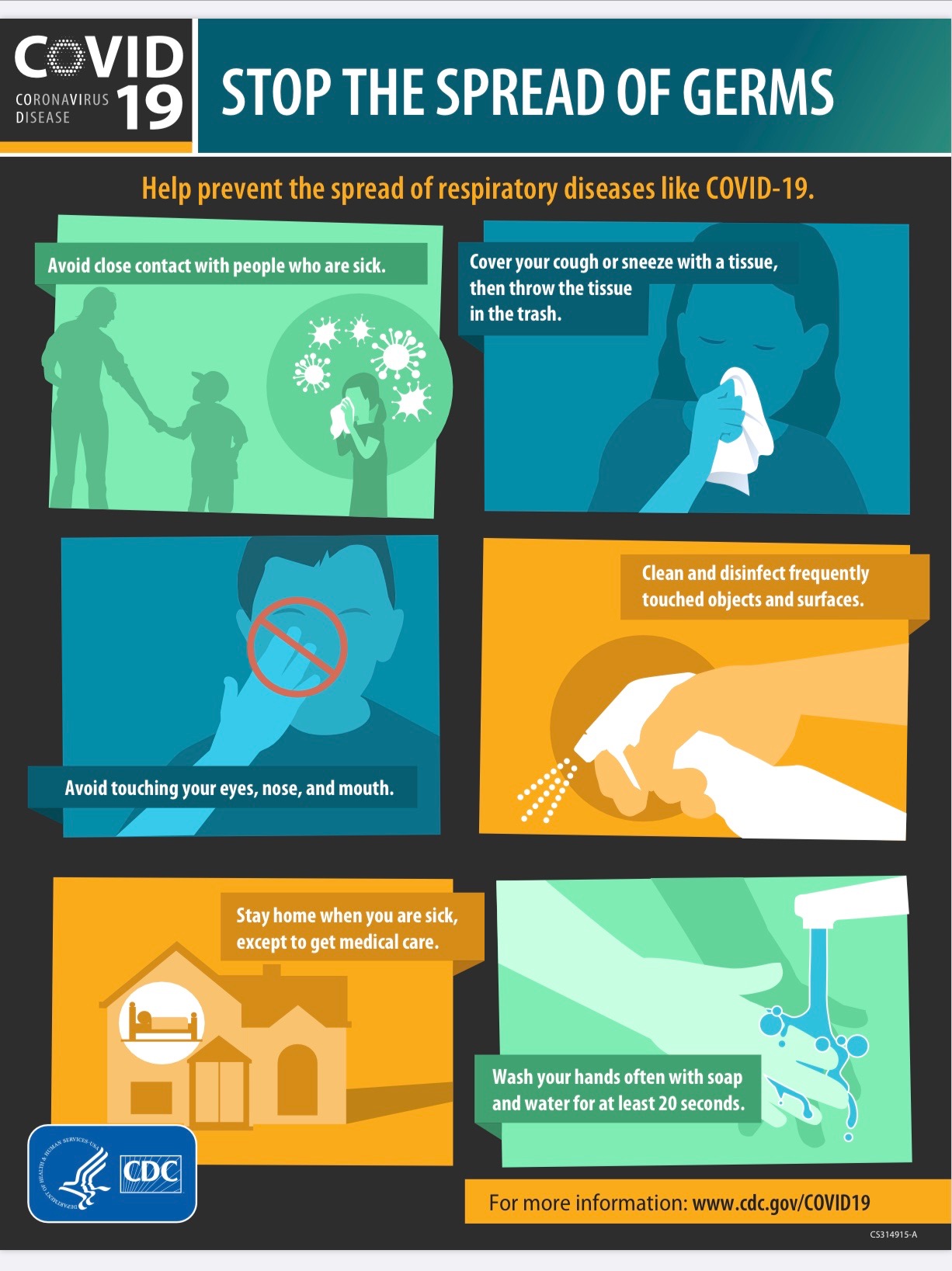 APRIL 1, 2020
Parents and Students,
You are probably aware that the governor has extended the executive order to close schools until Monday, May 4. This means that our K-11 classrooms will remain closed and teachers will continue to provide lessons and other learning resources to you both online and in printed form. Teachers will notify you if there are additional books or worksheets to pick up and you may do so each Monday between 8 am and 12:30 pm. (or call and let us know when you can come). The ECC will remain open. Our hours of operation and some procedures may be modified. We will keep you posted. ECC lessons will be updated on the Web page each Friday for the following week. We plan to open and proceed with the school year just as soon as the Governor lifts the order.
We want to thank you all for your ongoing prayers and support. We are aware of the financial challenges that we all face. The school board continues to pursue additional funding opportunities provided by the government through the SBA and our insurance company. We should have some answers soon and we thank you for staying with us as we negotiate this constantly changing situation. We pray for your continued patience, your health and safety, and for all those who are facing this crisis. Our faith and trust rests in our Lord and Savior, Jesus Christ.
Look for more information in our weekly Tidbits in your email this Friday.
God Bless!
Ron Fritsche
Principal